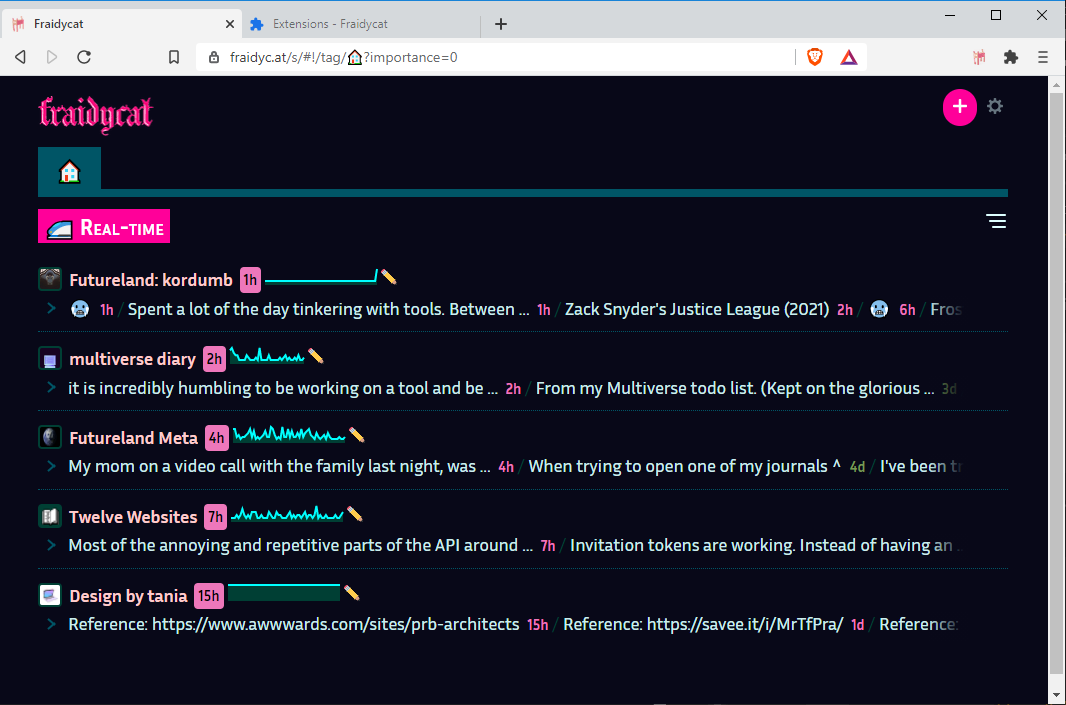 pwnage
Thanks to suggestions by sogen on Github, Tumblr support has been improved in Fraidycat. Futureland users and journals can also now be followed! Also have had recent fixes to Twitch and TikTok.
The issue with Tumblr was that their RSS feeds are terrible. There are no titles in them. And the rest of it is just a big dump of jumbled words.
Fraidycat now uses the API to communicate with Tumblr. However, you may bump up against rate limits (a 429 error), if you follow too many Tumblrs. Just save the follow anyway and it should show up later.
(If the rate limits end up being a big issue, we'll move back!)
---
Another great new addition is Futureland, a nascent blogging site - largely used for tracking progress on long-running efforts. Like drinking tea, which is a lifetime effort.
@glitchyowl and I have been keeping our 'multiverse diary' there. People mentioned wanting an RSS feed. Well, I can't do anything about that. But, fortunately, Fraidycat doesn't care anyway.
Now you can follow Futureland users - or even specific journals.
---
If there are any sites you want to see added to Fraidycat, send a message to @fffraidycat!

This post accepts webmentions. Do you have the URL to your post?
You may also leave an anonymous comment. All comments are moderated.